Hanoi, Ha Giang, Moc Chau, Sa Pa, Ha Long Bay…wonderful places in Vietnam for Autumn Lover.
Hanoi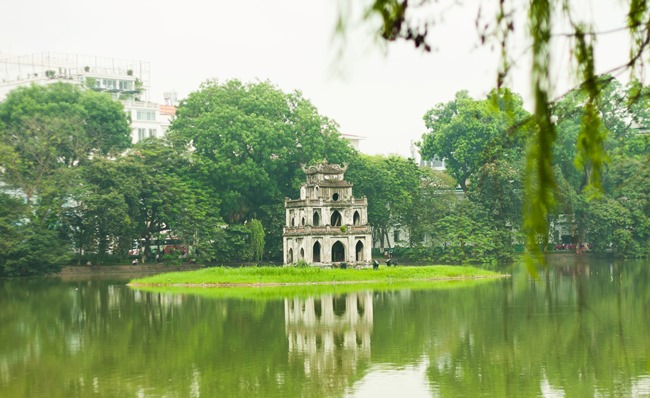 Hanoi. Photo by Chung Levan
Hanoi's autumn charms, its serene scenes of golden-yellow foliage accompanied by the wafting scent of 'com' (young rice flakes), attract countless visitors to the city.
When the autumn comes to, visitors will be enthralled by Hanoi's beauty, mesmerized by Hanoi's charisma and spellbound by Hanoi's scenery.
Ha Giang Province
Traveling in Ha Giang, you will not need to choose what is the best time to visit, because Ha Giang is beautiful throughout the year, in every season, Ha Giang has own beauty. In the early Autumn, paddy fields start ripening and the yellow colors surrounded the hills. But if you come in September (late Autumn), you will see the immense pink color of Buckwheat flowers – the famous flowers and specialty of Ha Giang. In the Winter, you'll be immersed yourself with the romantic snowfall.
Moc Chau, Son La Province
In October, autumn is coming with the cool squeeze and nice weather to Moc Chau plateau and immense fields of white cauliflower start to blossom in Moc Chau plateau and green color of tea stretches along hills.
As a mountainous province of Son La which is far 200km from Hanoi, Moc Chau attracts tourist by exploration in all seasons in a year. In each season, Moc Chau has a different beauty making tourists very interested and satisfied.
Sa Pa, Lao Cai Province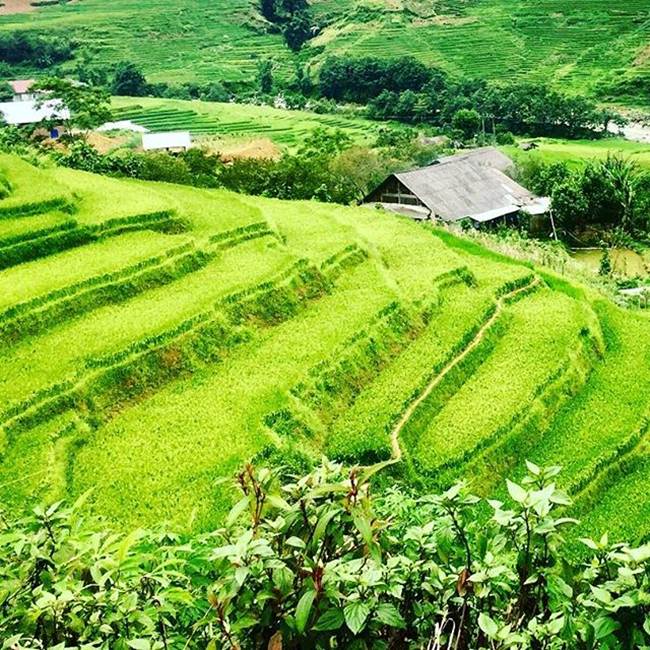 Sa Pa. Photo by Afdzdearroyabe
Sa Pa is a natural land where four seasons are differentiated clearly. Each season is usually symbolized by distinct and original products. Whatever season is Sa Pa in, this land always has its rare and distinct beauty. People who have fallen in love with Sa Pa said that even in each day, Sa Pa also has its different feature from the previous day.
In the autumn in Sapa, terraced fields have a beautiful yellow flower and precious medicinal plants like "tam that" (a kind of bulbous aralia), amomum, anise, and goldthread enter their season. Especially, the scenery of sunlight and cloud covering the hills and trees make Sapa more attractive to travelers.
Da Lat, Lam Dong Province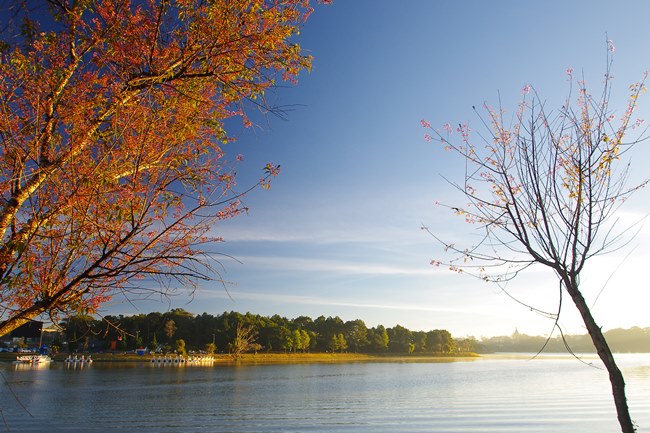 Da Lat. Photo by Pminhtrung
Each season in Dalat city retains a unique and particular beauty; apparently, only when touching the autumn, the wonderful land just becomes engaging and much more romantic than ever. All of the hillsides or steep mountains have been fully covered with colorful flowers and evergreen pine forests. This is the best time to visit Dalat.
Located about 320km from Saigon to the west, with an elevation of 1,500 meters above sea level, Dalat used to be regarded as "A Little Paris" of Europe in the French colonial period. Different from the severe sun and the wind in Central or the tropical climate in South, the city of "thousands of flowers" retains the temperate climate year-round.
Ban Gioc Waterfall
Ban Gioc water fall is located in Cao Bang province. The main part of the waterfall is about 100 meters wide, 70 meters high and 60 meters deep. This is a rare waterfall acquiring pristine beauty, also one of the most beautiful waterfalls in Vietnam. Waterfall look like a sheet of white silk crosses mountains. Two waterfalls with dozens of white cascades appear majestically. On top of the fall, sometimes has the yellow flowers, adorned for scenery here.
In autumn, Ban Gioc waterfall becomes beautiful than ever with the fog above the water in the early morning combined with the bright yellow color of the leaves and sunlight.
Ba Be Lake, Bac Kan Province
Ba Be National Park in Bac Kan province is a natural area with the most beautiful sceneries in the North. In autumn, the water in the lake is blue and smooth reflecting surrounding trees.
Lan Ha Bay, Cat Ba Island
Located in the south of the East Bay and Cat Ba Island, Lan Ha Bay area of over 7,000ha highlight the spectacular beauty of around 400 dense islands, bring interesting shapes. Unlike Ha Long, all in Lan Ha Bay Islands are covered with trees, although only the extremely small island.
Although not yet know the majority of tourists to the Lan Ha Bay but is considered one of the most beautiful bays of Vietnam. When the weather is the time to collect the most beautiful Lan Ha Bay with sun light, not hot fire, mild with a cool breeze of the ocean, that guests enjoy the fresh look, relaxing boat ride to admire the bay area.
Ha Long Bay, Quang Ninh Province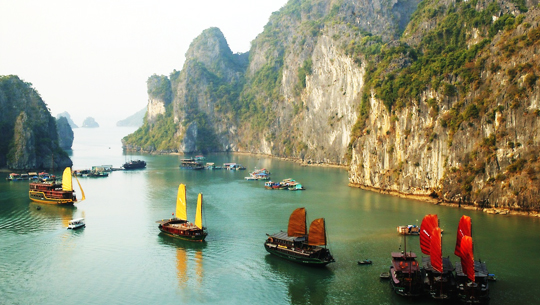 Ha Long Bay. Photo by internet
In the cool of autumn, tourists have a great chance to witness the different beauty of the world heritage site, Ha Long Bay.
Instead of clear blue skies and glistening emerald water, the face of the bay is overwhelmed by gray. Visitors used to the imposing beauty during summer are presented with a more romantic and charming vista through the cooler days and evenings of autumn.
Trang An, Ninh Binh Province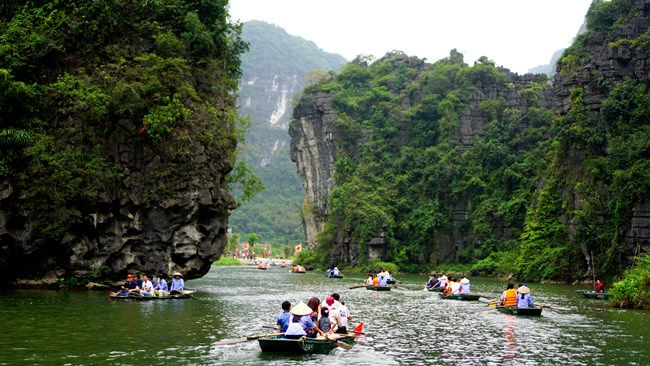 Trang An. Photo by Phuong Ng
Less than 100km from Hanoi, the Trang An tourism complex is located on over 2,000 hectares and is home to limestone mountains, caves, and temples.
In the summer Trang An is covered by the yellow color of rice fields stretching both sides of the Ngo Dong River, but in autumn the area is very green. It's charming young beauty captivates many visitors, especially photographers.
Hanoitimes.com.vn