If you are finding the local food to taste in Hanoi, here are the top 10 dishes that you will love.
Pho Hanoi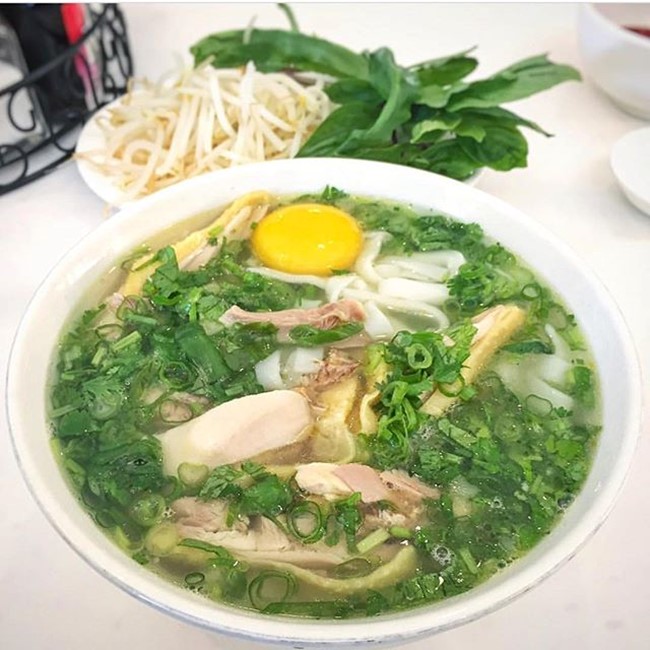 Pho Hanoi. Photo by Phohanoisanjose
Pho Hanoi which made number 20 on the list 50 best foods according to CNN readers, is basically a bowl of soft rice noodles in a broth carefully prepared with different herbs and served with beef or chicken, shallots, and chili and lemon to taste. "But it's greater than the sum of its parts – fragrant, tasty and balanced
Cha ca La Vong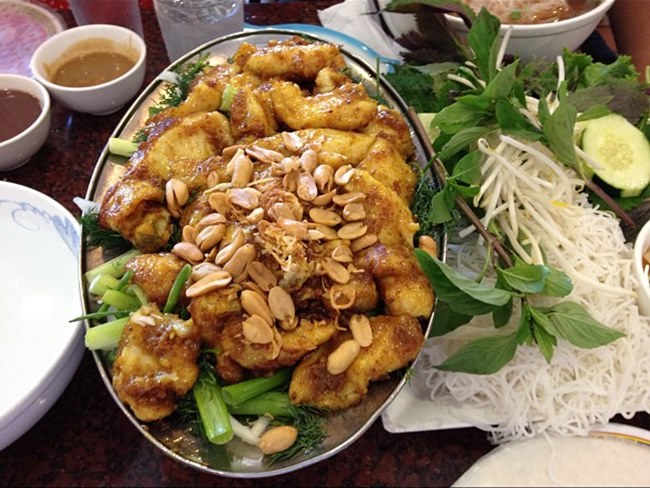 Cha ca La Vong. Photo by Steve Ho
"Cha ca" is a favourite dish of Hanoians. Located in Cha Ca street, Cha ca La Vong ("cha ca" means grilled fish) is the famous restaurant to many Hanoian as well as visitors from all over the world.
The grilled fish must be made from a kind of fresh water fish called hemibagrus because it has very few bones and the flesh is very tasty. If hemibagrus is not available, we could make do with mudfish or snake-head fish.
Some connoiseurs may request for a special kind of fish called Anh Vu, which is available only in Viet Tri city at the turning point of the Bach Hac river.
Bun Cha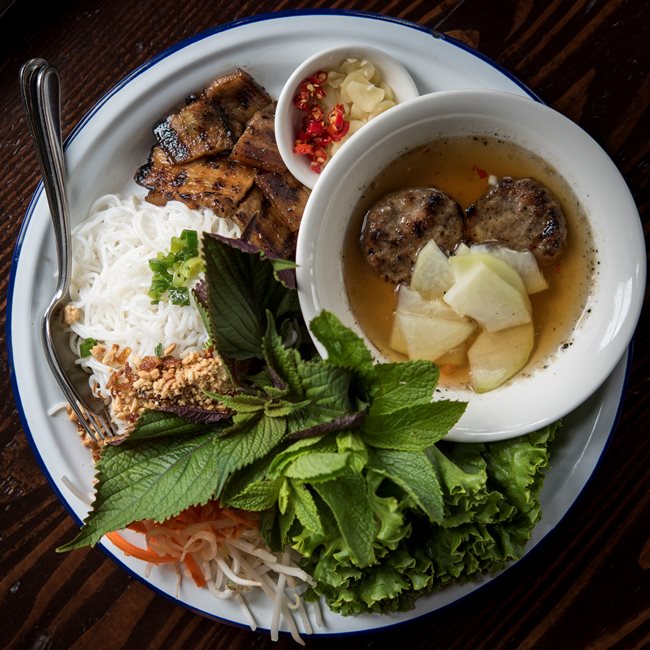 Bun Cha. Photo by Geoffrey Smith
"Pho" might be Vietnam's most famous dish, but "Bun cha" is the top choice when it comes to lunchtime in Hanoi the capital of Vietnam. Just look for the clouds of meaty smoke after 11 a.m. when street-side restaurants in Hanoi start grilling up small patties of seasoned pork and slices of marinated pork belly over a charcoal fire.
Once they're charred and crispy, the morsels are served with a bowl of a fish sauce-heavy broth, a basket of herbs and a helping of rice noodles. Bun cha sets often come with the delicious nem cua be — fried crab spring rolls. Still not convinced? It's what Obama ate during his night out with Bourdain.
Bun Thang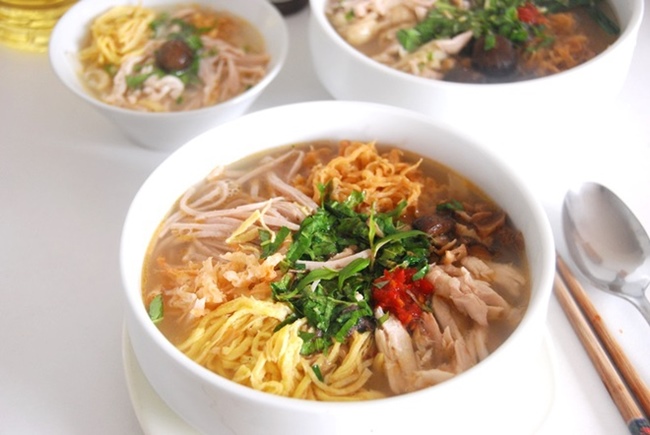 Bun Thang. Photo by Tang Tran Minh Thanh
Bun Thang originally from North, but already found a new home in many places in South, Vietnam. in Saigon where has been considered as the largest food hub. Easy to find bún thang around the city.
Today bun Thang seems simplified a lot, from the ingredients to the cooking process. in South, where is far away from the origin place. Bun Thang requires long preparation. How to keep the soup clear, how to make thin omelette, to cut it and Vietnamese pork ham into super thin shreds. Otherwise our color picture would look nicer with red shrimp floss, yellow egg shreds, pink pork ham strips, green Vietnamese mint and ivory chicken floss.
Banh Cuon Thanh Tri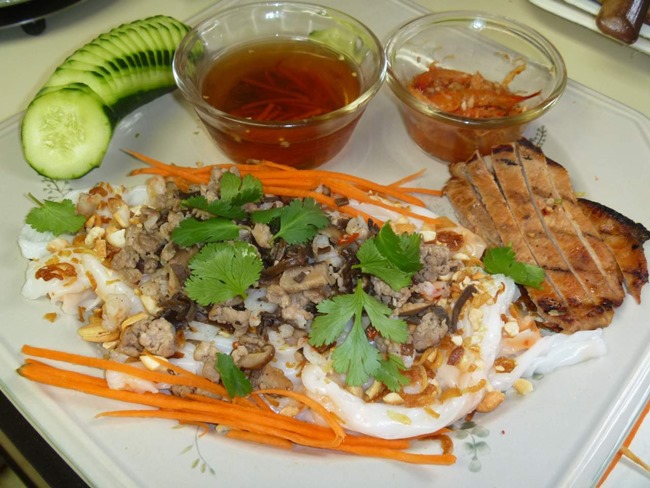 Banh Cuon. Photo by Steve Wertz
Bánh Cuốn looks like a soft spring roll, filled with a mixture of pork, onions, wood ear mushrooms, and fish sauce. It tastes delicious and the ingredients are actually common foods. For those are familiar with Bánh Cuốn, it become favourite breakfast food. For those have not yet ever try the dish, once taste it, you soon fall in love with its flavor.
Com Vong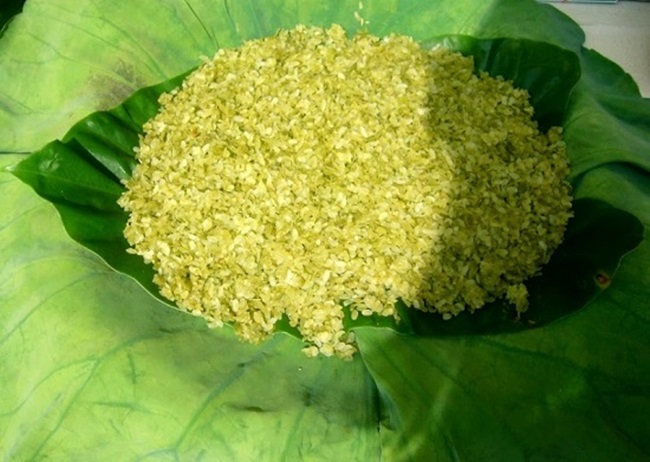 Com Vong. Photo by internet
Com of Vong village is perhaps the most special snack in Hanoi cuisine. Dishes from "com" are always loved by Vietnamese and foreign diners and contribute to diversifying Vietnamese cuisine.
"Com" is found not only in Vong village (Lang Vong green sticky rice), Hanoi. However, perhaps the elegant taste of this kind of snack can be found nowhere else. "Com" of Vong village is considered a cultural feature of the millennial capital city. And "Com Vong" has become a familiar specialty of Hanoi whenever autumn comes.
Sau Fruits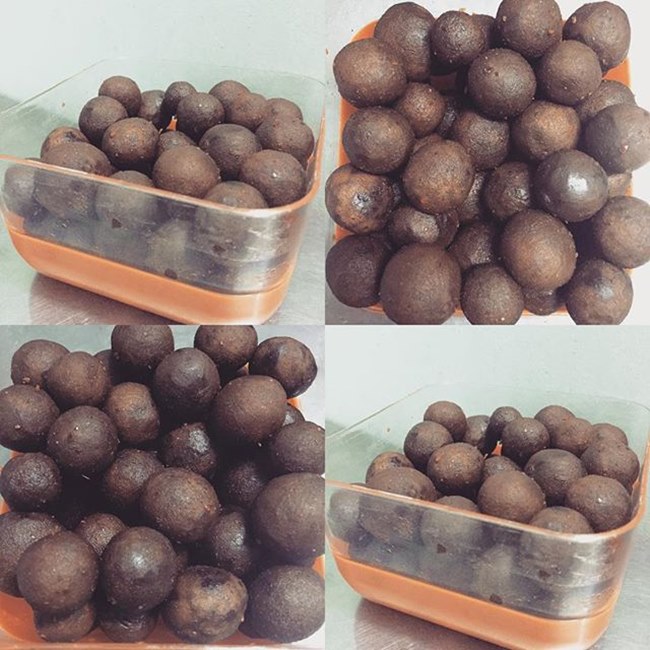 When the winds of the autumn come is the time dracontomelon fruit is ripening on the streets of Hanoi. Small, round, yellow-ripen fruits are packed with so many memories of those who grew up or lived in the capital.
Seeing ripening dracontomelon fruits, many people immediately think of the fall of Hanoi. The dracontomelon fruits are peeled then sugared or salted are the favorite junk food of many people. In Hanoi, there are many streets with rows of dracontomelon trees, such as Phan Dinh Phung, Tran Phu, Tran Hung Dao… The trees are very high so few people noticed the ripe fruit on the trees.
Banh Tom West Lake
From a kind of snacks, shrimp cake now becomes a specialty in Hanoi. There is a road in Hanoi city that called Thanh Nien Road. People when crossing this road want to try some shrimp cakes because this cake became the most famous food in this street.
>> See more: Famous mooncake brands in Vietnam.
Bun Oc
Bun Oc is a dish of Hanoi, Vietnam. Roasted snails, ốc luộc, may be eaten first as an appetizer. Snail congee is called chao oc, and canh oc chuối đậu, is a thin snail soup with green banana, fried tofu.
The method of making bun Oc is rather simple like bun oc in other places where makers have to boil the snail first then take out the snail meat and fry it with oil, fish sauce and sugar. The soup will be boiled with pig bone to increase the sweetness and added with tomato and main spices.
Xoi Che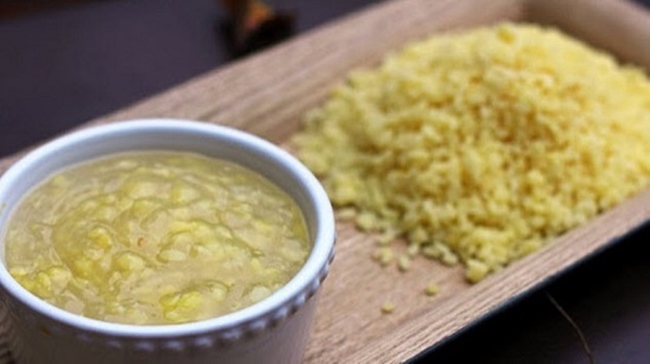 Xoi che
A special feature of this type of sticky rice is that the sticky rice particles are separated away yet they are still very limber. Almost similar to Xoi Xeo which has the glutinous mixed with cooked, milled green bean, but to make Xoi Vo, people need to steam glutinous rice with pineapple leaves for special aroma (maybe you can use a little Gardenia jasminoides powder or turmeric for more eye-catching color).
Cooked glutinous rice will be taken out and put on a flatter and mix with a half of cooked pureed green bean in order to let the green bean cover the glutinous rice and become disjointed. Then, put the ingredients into the autoclave once again and steamed until the sticky rice becomes really limber (you can use a little coconut milk to make the dish more delicious and fragrant.
Finally, take the sticky rice out and mix with the rest of the cooked, milled green bean to make the glutinous rice particles disjointed. Xoi Vo can be made with lotus seeds to get a special, delicious dish, being served as one of the important and featured dishes on the feasts in holidays, Tet, or weddings.