Take a look with photo of Hanoi attractions in the past and present.
Hang Dau Street (Bean Street)
Hang Dau ( 272 metres long) was where, in the past, many people in the Red River Delta and surrounding areas had shops selling all kinds of beans (green beans, soybeans, black beans, etc) and products such as tofu and bean sprouts.
In the past, Hang Dau was called "the Street of Frains" ( Rue des Grains) but the revolutionary government restored the old name of Hang Dau after the 1945 August Revolution.
Today, Hanoians no longer sell beans on Hang Dau Street; they have switched to a wide variety of products things including automobile parts, motorcycles, and mobile phones, as well as pet fish and aquriums.
Long Bien Bridge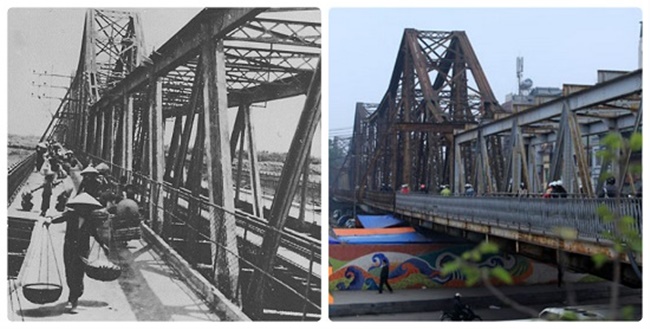 The Long Bien Bridge was constructed from 1989 to 1902 during French's occupation of the country. Though the bridge was designed by French, it was built directly by Vietnamese workers with indigenous construction materials like woods from Phu Tho, Yen Bai, Thanh Hoa province, cement from Hai Phong, Long Tho lime from Hue.
Today, Long Bien is only one of the five bridges crossing the Red river of Hanoi.
However, it may be the most special bridge with unique historic, architectural, and cultural value. It is the only bridge in Hanoi where all the riders have to go in the left hand side, where tourists can take a walk and taste mouthwatering desserts offered by vendors (see 5 street vendors you should not miss out in Hanoi), where Hanoians can buy fresh vegetable or fish for the dinner from the small afternoon market on the bridge.
Dong Xuan Market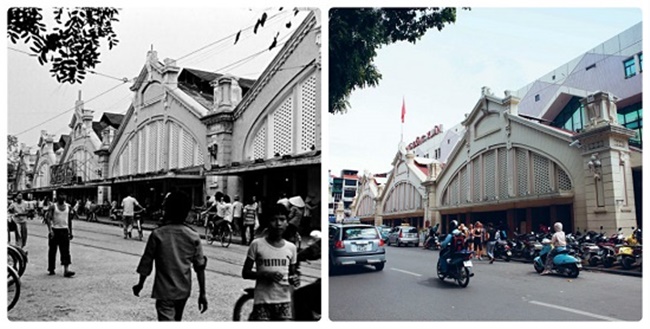 A long time ago there were two centers of sales activity (markets) in the Old Quarter, one next to the Cau Dong Pagoda on Hang Duong Street and the other next to the Bach Ma Temple on Hang Ma Street. In 1889 French city planners filled the To Lich River and the Thai Cuc Lake and closed down these two markets. The traders then moved about 150 meters away to what was an unoccupied place in Dong Xuan ward, Hoan Kiem district. This new open air market was called Dong Xuan Market.
Today, the renowned Dong Xuan Market in downtown Hanoi has long been a favorite place for Hanoians and Vietnamese and foreign visitors to the city to shop. A night market now takes place along one street which changes name from Hang Ngang to Hang Dao midway. It was created in recent years to attract more people to the old quarter. Here one can find both expensive and cheap items, and also interesting souvenirs. Along the edges of the night market on the sidewalk one can sample Vietnamese traditional foods like bun and pho (noodles with meat and vegetables). The night market attracts locals and foreigners alike.
Quan Thanh Temple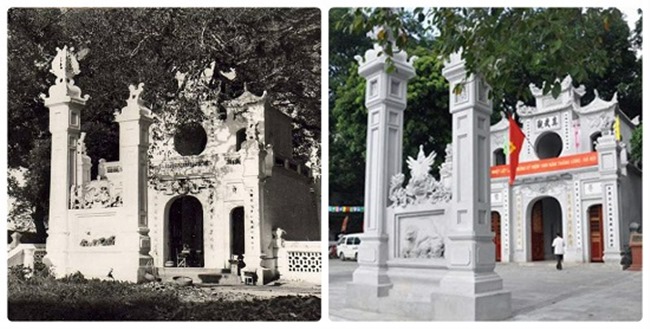 Quan Thanh Temple is located at the crossroads of Thanh Nien Street and Quan Thanh Street, near West Lake, Ba Dinh District, Hanoi. Built during the reign of King Ly Thai To (1010 – 1028) and renovated many times, the temple is also called Tran Vu temple, since it is dedicated to Huyen Thien Tran Vu. Quan Thanh Temple is an important historical and cultural place in Hanoi.
Quan Thanh Temple attracts visitors for its famous special and beautiful structure and religious cultural place. This place also has one of great secret that many tourists and researchers have been looking for it.
Hanoi Railway Station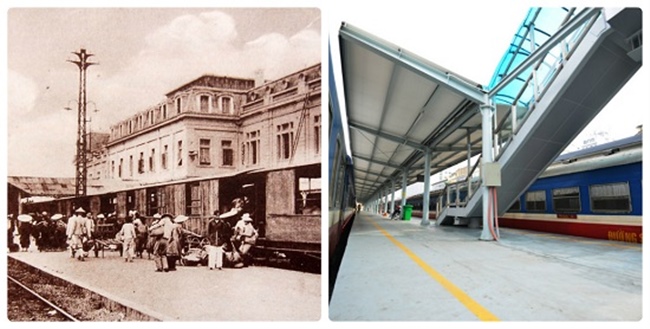 Hanoi Railway Station is the oldest railway station in Vietnam with more than 100 years of history. It witnessed so many battles, the rise and fall of the city as well as the determined spirit of railway workers there in their effort to protect the key traffic hub of the railway system during the war.
Nowadays, Hanoi Railway Station becomes the point where trains departs to the south like Hue, Da Nang, Ho Chi Minh City.
Hang Bo Street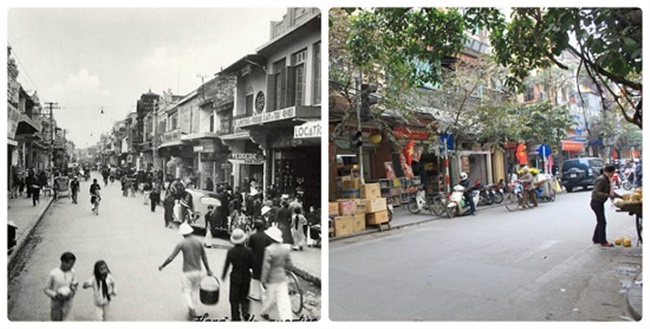 Hanoi is mostly known as a land for cultural exploration; however, the city is also regarded as a paradise for food addicts. Hang Bo has a great proximity to Hoan Kiem Lake and crosses through famous old streets such as Hang Ngang Street, Hang Dao Street, Thuoc Bac Street and so on. Previously, Hang Bo Street covered Hang Dep which mainly sold sandals and leather shoes.
Hanoi Opera House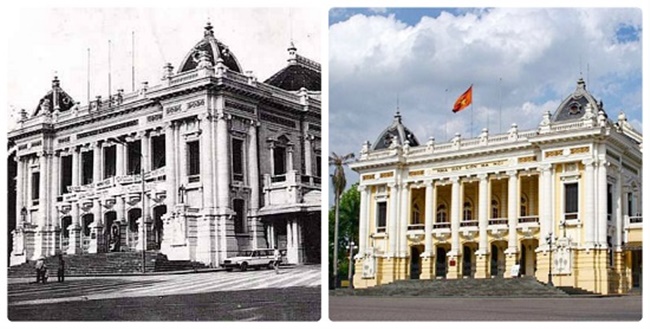 In the past, the theater solely hosted performances by Western artists for French officials and wealthy Vietnamese. Nowadays, Hanoi Opera House is one of Hanoi's cultural centers where art shows, concerts, dance performances and other events usually take place, with the scale ranging from national to international.
St. Joseph's Cathedral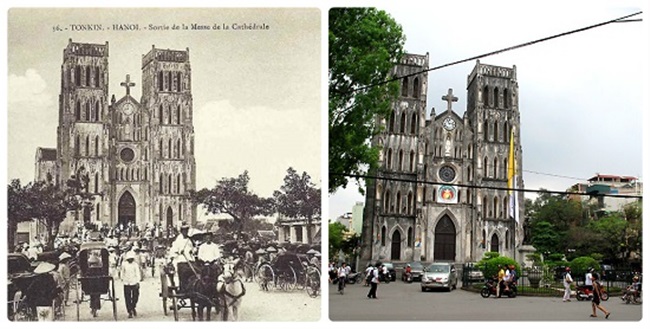 St. Joseph's Cathedral is a church on Nha Tho (Church) Street in the Hoàn Kiếm District of Hanoi, Vietnam. Its a late 19th-century Gothic Revival (Neo-Gothic style) church that serves as the cathedral of the Roman Catholic Archdiocese of Hanoi to nearly 4 million Catholics in the country.
Construction began in 1886, with the architectural style described as resembling Notre Dame de Paris. The church was one of the first structures built by the French colonial government in Indochina when it opened in December 1886. It is the oldest church in Hanoi.
Trang Tien Street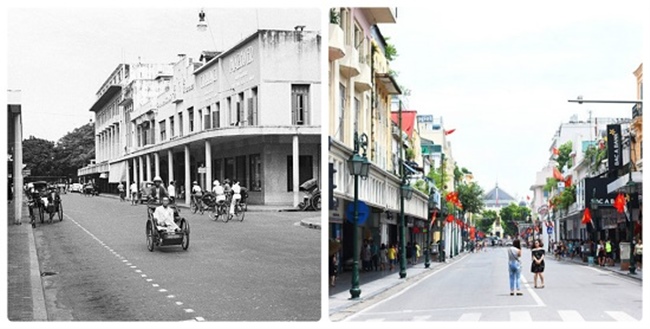 This is one of the most visited streets, simply because of its proximity to the Old Quarter of Hanoi. It is even a must for those who love books. There are all kinds of books, in English and Vietnamese, fiction and non-fiction, to be found in the well-displayed book store or the vendors on the street. If you do not buy it from one of the more settled places like Trang Tien bookstore of Foreign Books, negotiate the price before opening your wallet.
Besides books, Trang Tien is also known for its prestigious ice-cream. Trang Tien ice-cream is a famous trade mark and popular among all Hanoians. Days and nights there are plenty of people making it to the ice-cream shop from all over the city. Look for the crowd and you will see where the ice-cream comes from. Make sure you try kem com (young green rice flavoured ice-cream) and kem dau xanh (mung-bean ice-cream). (source: hanoitimes.com.vn)